I think you will agree when I say that finding and hiring a drummer locally near you is.. well, a pain.
From being available to being skilled at your specific genre to booking recording studios and then managing the session in a way that you get exactly what you had envisioned for your track (without hurting fragile drummer egos), you are looking at a monumental task.
This is why remote session drummers are becoming so popular.
There were some inherent misgivings about working with musicians online but as the pandemic came in, most online session drummers, through trial and error, have made their whole process of collaboration extremely streamlined.
You get all the good stuff, without any of the hassle.
So, let's just get into all the benefits you get from working with a session drummer online.
1. Access to a wide range of skills
Do you play metal, rock, funk, pop, or maybe jazz? Unless you stay in a city with a flourishing music scene, there's minimal chance of finding a drummer who is a good fit for your music.
I mean what all can that friend from college you used to jam with be able to play.
I am sure you WILL find the right fit for yourself online. Someone who not only has experience playing that genre but someone who can understand your vision for your songs.
A decent music studio near you would cost at least $40-50 an hour. Including setup time plus depending on your drummer's skill level you could be looking at a minimum of 2-3 hours of booking time when doing a single and maybe an additional hour plus song.
As per Music Industry Inside Out, drummers charge on average $100 with a 3-hour minimum. So that's a $300 cost even if you need someone for 30 mins!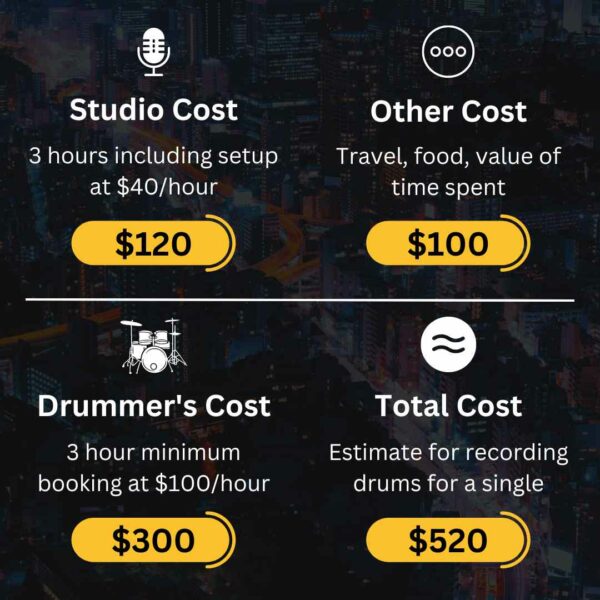 This cost can go down to roughly $200 per song if you are doing a full album of 8 songs. That's assuming you complete the drum recording in a single day!
In contrast, an online session drummer could be charging, on average. anywhere from $50 to $150 per song, and you won't end up spending more if you are recording just a single.
For example, at Whack Studio, a remote drum recording for a 5-minute song would end up costing about $70-90 depending on the requirement. 
Recording live drums in a studio is an art in itself. The magic of a getting a good drum mix eventually is in getting the source recording right. It will all depend on how good your recording engineer is, how well he can tune the drums and how good the actual kit and cymbals are in the studio you book.
Most online session drummers end up becoming very good at tuning and recording their drums since they are doing it every single day! They keep an arsenal of equipment to make sure the drum tones match the song they are working on.
There are also drummers like myself who have shifted completely to using electronic drums with sample libraries.
Modern Libraries like Superior Drummer offer so much realism with beautifully sampled drum kits that it makes sense to use these amazing tones every single time.
You get the playing feel from the e-kit and the tones from these libraries. Check out the sample of a raw and mixed metal drum track below that I have played.
Raw metal drum recording (Superior Drummer)
Mixed metal drum recording (With additional samples)
4. Ability to work remotely
While I was gigging and doing sessions pre-pandemic, I think I spent more time travelling than I did actually playing and collaborating.
And I hated that.
When you want to work with a remote session drummer you don't just keep fighting to try to find an open slot in both of your schedules. You spend that time collaborating online and working on your music.
It's crazy how the music industry has become so fast paced today.
The internet is absolutely being flooded with content. As per Music Business Worldwide almost 60,000 songs are uploaded to Spotify every single day! Yes, every day!
To stay relevant many artists have completely changed strategy. Instead of doing an album in a year or two, they are focused on releasing a single every couple of weeks.
This means artists HAVE to work fast. Deadlines are for hours and days and not weeks.
Working with a remote session drummer can make this a lot easier as many drummers usually take anywhere from 1 day to a max of 4-5 days.
6. Ability to provide feedback and revisions to tracks
Imagine you spend a whole day in the studio doing several songs, you reach back home all proud of what you have accomplished, you listen to all the tracks your drummer recorded for the next 2 days and boom – you don't like the groove being played in the verse.
Its normal to want to take a break for a day or two, distract yourself, and then come back to your song to have an objective opinion about it. But that's not possible when you have hired a studio and a drummer, and both are waiting for your ok to proceed to the next part.
This becomes infinitely easier with online sessions. Take your time, get feedback from friends and other musicians, then let your online drummer know what needs changing.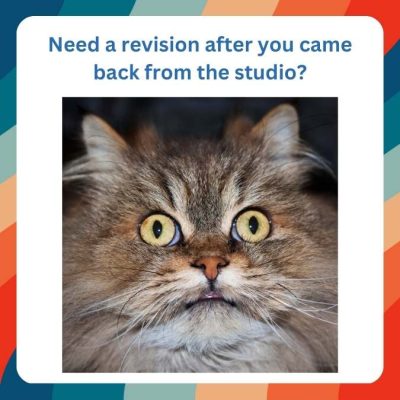 7. Ability to work with any budget
Every musician is at a different stage in life, has a different objective for releasing their music and accordingly has a different budget.
When you are online you can find drummers in every budget. All the way down from $20 to all the way up to $200-400 for a song.
You can find drummers who are amateurs or pros who worked on your all-time favourite album!
8. Ability to provide recordings with a wide range of tones and textures
One size does not fit all. Unlike a traditional studio session, a remote drummer can utilize a bunch of different techniques, mics and gear to cater to your playing. They are able to experiment with the track in their own studio. 
Remote drummers can offer an exceptional amount of creativity and flexibility while working with you.
This is why they are able to tailor-make the drum tracks and really personalize the sound based on your song.
9. Less pressure on the musicians
When you have booked an expensive studio and an expensive drummer, you can expect some amount of pressure on everyone in the room.
Whenever there's a short deadline that is to be expected! But not everyone is adept at handling pressure, and it can lead to a sub-standard final output.
By moving the whole process online, you remove the immediate deadline and are able to work in a much calmer environment with better results.
I am an online session drummer specializing in rock and metal and I would love to work with you!
Frequently Asked Questions